Learn to Scuba

Your Most Experienced Scuba Training Center

Atlantic Edge Scuba has been helping people of all ages to learn to scuba dive in Maryland, Virginia and Washington D.C. for over 30 years. Learning to scuba with Atlantic Edge is the beginning of a whole new world of underwater adventure.

We start by introducing you to scuba in your choice of pools all over the MD, D.C. and N. Virginia region. The goal is to have you obtain your Professional Association of Diving Instructors (PADI) certification that requires pool training, independent, and online eLearning (included in the course fee), and four open-water dives in a local quarry.


Your will appreciate the 2:1 Student-to-Instructor ratio, which insures safe and professional teaching to get you the most out of your training.

Once PADI-certified, only Atlantic Edge Scuba can offer you a chance to dive in Baltimore, MD at the National Aquarium. This is a truly unique experience only available through Atlantic Edge.

We also arrange and lead several Adventure Trips throughout the year to exotic destinations with our master dive instructors and our extended scuba-diving family.

Learn to Scuba Today! Choose a Pool and Take the Dive!


Training available at the following locations: Rockville MD, Annapolis MD, Gaithersburg MD, Arlington VA, Frederick MD, Randallstown MD, Catonsville MD, Washington D.C., Ellicott City MD.
What does it take to get your scuba certification?
The certification process consists of independent study, knowledge review, pool skill development, and four open-water training dives.
Independent Study
You can complete the independent study requirements using the PADI eLearning program at your leisure. The estimated time to complete the independent study is 10-20 hours. The PADI eLearning program is included in our course fees.
Knowledge Review and Pool Skill Development
Your instructor will go over what you have learned through independent study, eLearning, and then give you a mini quiz. You'll then practice scuba skills in the pool. Knowledge review and skill-development sessions take place at one of our many pool locations in DC, Maryland, and Virginia, and we teach every weekend from approximately 10 am-5 pm depending on location. See our schedule below.
Open-water Training
You will have to complete four instructor-supervised dives over two days. From May through October, you can complete your open-water training dives at a local quarry with Atlantic Edge. During the rest of the year, you can complete your training on a vacation or on one of our many group trips.
Why Learn to Scuba with Atlantic Edge?
It's a one-day course

All Equipment included, except mask, snorkel, and fins.

We make sure you like scuba diving before you have to purchase any equipment. So y

ou can rent the mask, snorkel, and fins for $15.

Just show up with your bathing suit, towel, and paperwork!
Includes all material, E-Learning fees, etc.

Individualized attention:

A 1-to-2 professional-to-student ratio allows us to offer a one-day class that covers the classroom and pool portions of the certification.
Classes are offered all year round, almost every weekend in different locations throughout the

DC, Maryland, and Virginia

area.
Want more time in the water? Once you complete your first Learn to Dive class you can sign up for as many additional water sessions for 60 days as you like-

for just $50 a session

-to get comfortable or to master any skill.
Atlantic Edge has more than 30 years of experience in training scuba divers.
We are the official dive store for the National Aquarium in Baltimore. Atlantic Edge manages and staffs the Guest Dive Program for the National Aquarium. This means you can dive with us at the Aquarium once you're certified!

When Can You Start?
Part One - Class and Pool
We offer classes each weekend in several locations in the Baltimore, Washington, and Virginia areas. Class times usually are from 10 am to 5 pm, depending on the location.
Check out the locations and schedule below.
How Much Does it Cost?
Learn to Scuba knowledge-development (eLearning), review, and pool instruction is $499 and includes:
PADI eLearning Program ( $205 value)
Knowledge review and pool training
Use of all gear wetsuit, tanks, regulators, BCDs, and weights in the pool
Mask, snorkel, fins may be rented for $15 or you can buy your own gear
Part Two -

Open Water Training Dives
If your plan is to complete your Open-water Training Dives locally, the dives are usually conducted at a scuba park or at a local spring. Training dives take place on a Saturday and Sunday. You will complete two dives each day for a total of four open water dives.
The cost for four training dives is $295.
Check out detailed information on what to expect in your training dives here.
Are You Ready Now To Learn How To Scuba Dive?
Just pick a date and location from our list below and we'll email you an eLearning code and information during our normal business hours Monday through Saturday.
Prerequisites
Anyone who is in reasonably good health, and comfortable and relaxed in the water, can usually learn to dive without difficulty.
Students need to be ten years of age or older by the start of the course. We also offer summer Scuba Camp programs for 10-15 year-olds.
You need to be able to answer "No" to all questions on the PADI/RSTC Medical History form or secure a physician's approval for diving prior to the start of the course.
There is a watermanship assessment. You need to be able to float, tread water, or drown proof for ten minutes and either:

Swim 200 yards, no time limit, and any stroke.
Swim 300 yards with mask, snorkel, and fins.
Once you complete these steps you are certified for life! It is then time to join us at the National Aquarium in Baltimore for the best local dive around, or on one of our many dive trips to exotic destinations. Learning to dive opens a world of opportunities most will only dream of. Imagine exploring a coral reef, discovering shipwrecks, taking underwater photographs, and much more!
Atlantic Edge conducts the class and pool skills in one day, but that does not mean everyone can complete it in one day, or may just wish to spend extra time in the pool to gain even more confidence and experience. We offer our students the opportunity to repeat the entire 4-hour pool session for $99 as many times as you need within 60 days of your class. That way, those that can complete the skills in one day are all set to go to the next step. Those that wish to practice some more can attend another session. Check out our testimonials. We want all of our students to be safe and confident divers.
Learn to Dive Paperwork
Learn to Dive Course Description
Learn to Dive Paperwork Packet
Related Products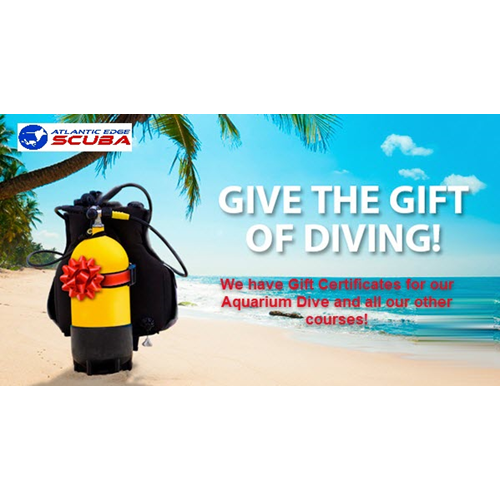 Learn To Scuba Gift Certificate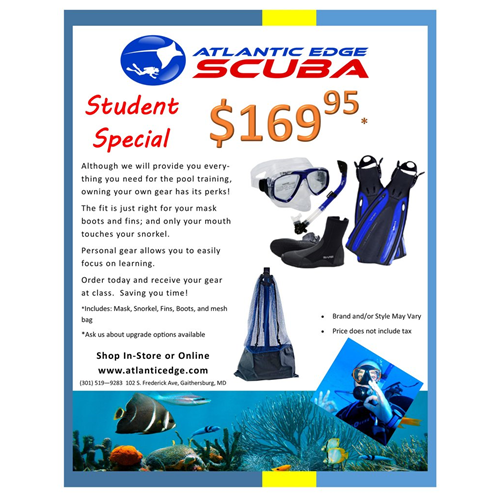 Student Personal Package